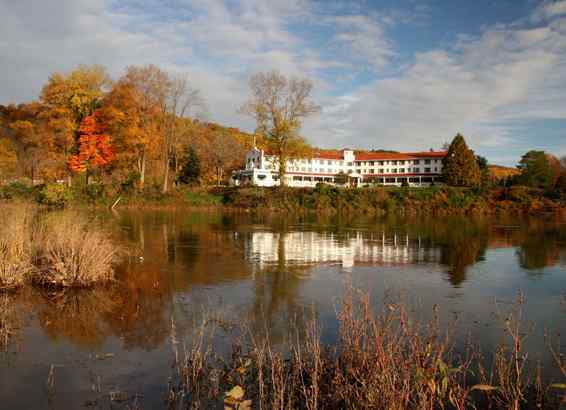 From Joe Sixpack (clicky HERE):
BY COUNTRY-club standards, the new brewery on the grounds of the Shawnee Inn & Golf Resort on the eastern edge of the Poconos is practically unheard of.
After all, when was the last time you had a great beer at a golf club? Run-of-the-mill Bud Light and Heineken are the typical fare; even at exclusive clubs with exorbitant greens fees, the quality of beer is an afterthought at the 19th hole.
But Pete Kirkwood, the man behind the fledgling ShawneeCraft Brewing Co., doesn't want his beer judged by golf standards. He wants to build an iconic brewery that, in the words of his motto, is "true to nature, true to craft."
"I didn't come to the brewery from a perspective of a golf course," said Kirkwood, who grew up at the resort that his family has owned for 32 years. "I came to the idea of a brewery organically. . . . We want to stay focused on making beer that's great."
Thus, he and head brewer Leo Bongiorno are looking to build a portfolio of outstanding beers that will shine no matter where they're poured.
They want to brew traditional beers - porter, bitter, pils - and inventive Belgian styles. They have laid in several dozen used bourbon barrels for aging their ale, and they hope some day to begin blending lambics fermented with wild yeast. Though their brewery is not organically certified, they'll use as many natural ingredients as possible.
Forget golf standards - even by beer standards, it's an ambitious plan.
The 10-barrel brewhouse is inside a former ice rink on the grounds of one of the Poconos most renowned resorts. Just down the road from the Shawnee Mountain Ski Area, the Shawnee Inn has been a summer and winter destination for Philadelphians and New Yorkers for more than a century.
It sprawls along 250 acres on the Delaware and a private island in the river, near the scenic Delaware Water Gap National Recreation Area. Its links, the first design by prolific golf-course architect A.W. Tillinghast, of Philadelphia, hosted the 1938 PGA championship.
The inn itself is a blast from the past, its massive, foot-thick concrete walls decorated with photos of celebrity visitors who filled the dining room in days past to hear the internationally famous Fred Waring orchestra.
Kirkwood, a former homebrewer, said that he was inspired to launch a brewery by the growing local-food movement. "I didn't want to get into it unless we could do something sensational," he said.
He recruited Bongiorno, a well-regarded pro who was one of the founders of New York's Butternuts Brewery. Together, they spent more than a year setting up the facility; some of it is outfitted with parts stripped from the ice rink.
There are plans to add a small pub and perhaps an entertainment space. But for now, Kirkwood is focused on "trying to make the finest beer consistent with being true to the environment."
Some ingredients are harvested on the grounds and others are from nearby growers. Spent grains are composted. Bongiorno engineered an ingenious condenser stack on the brew kettle to convert steam into non-potable hot water for cleaning.
Though Kirkwood plans to bottle ShawneeCraft's products, currently they're only on draft at The Gem and Keystone restaurant (formerly Sam Snead's Tavern) on the resort grounds. Growlers are available for takeout.
Decorated with manly golf memorabilia, the restaurant is the kind of place where you'd be comfortable slipping off your spikes on the outdoors wooden deck before heading to the bar. There's an early 20th-century American Craftsman feel to the place, with its distinctive wrought-iron trademark insignia depicting the symbols for water and trees.
The menu is imaginative, featuring seasonal, local food. A turkey sausage empanada with cranberry salsa paired beautifully with the Bohemian Pilsner; I washed down bites of vegetarian pot pie served inside an acorn squash with a lightly bittered ESB Pale Ale.
My favorite was the Entire Porter, served softly with nitrogen gas. I told Bongiorno that the Pumpkin Saison I sampled directly from the conditioning tank might've been the best pumpkin ale I tasted this autumn.
This is a young brewery. Give it a chance - and not just because it's at the rare golf club with a decent beer list. If these guys pull it off, we could be witnessing the start of something great.